About Us
"Where children love to learn"
The management team, Director and Educators of Kids on Craig ELC would like to extend a warm welcome to you and your family.  Thank you for choosing us to share the joys and memories of your child's early years.
We look at Kids on Craig ELC as a community, where children feel safe and secure to grow, learn and discover.  As a family within our community we encourage you and your family to take an active part in our centre during your child's time here.
Our parent handbook will provide you with an overview of our centre and our centre's philosophy.  It will also provide you with information on areas of interest, which we believe will help in the development of a high quality centre.
We look forward to meeting with you, and should you have any queries, please come in and see us at any time or feel free to call us on 38694188, alternatively you can send an email to admin@kidsoncraig.com.au  and we will always endeavour to be of assistance.
An environment where children feel secure is one where they will develop to their full potential.
This environment is created with the knowledge that all parents have of their children and the professionalism and developmental knowledge of our qualified staff.
Our aim is to provide this environment where children feel free to discover, develop and further their interests through play and the environment.
We believe in equal opportunities for all children through an interest based emergent curriculum.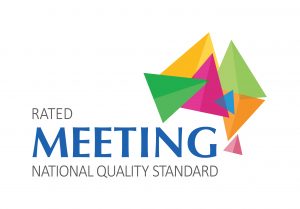 Kids on Craig Philosophy
RESPECT– Respect is the key to relationships. When we show consideration for another person, we communicate to them that they are valued. Feeling valued contributes to a sense of trust and self-esteem and is reflected in the individual's ability to form and maintain relationships with others. At Kids on Craig Educators strive to build respectful relationships with families, children and the community they intentionally embed the practices to teach the children about respect and valuing each other, this allows the children the ability to expand their knowledge and understanding of the world, creating children who are compassionate and caring beings.
COMPASSION– Compassion is valued highly at kids on Craig, we show sympathy and concern for the sufferings or misfortunes of others. We show compassion when we act on feelings of empathy, kindness and service for the empowerment of others. Connecting the children at Kids on Craig gives them the opportunity to contribute to their world, their community, their future. (Outcome2.3) We also recognise our families are their first teacher and how important it is that we work together in constructing a rich learning environment and curriculum that is supported by the EYLF, the QKLG and the NQS, which underpins our polies and procedures.
CREATIVITY–Creativity is the ability to transcend traditional ideas, rules, patterns and ways of being. When we are creative, we can develop meaningful new ideas, form methods and interpretations. Creativity is risking what is, for what could be.  
LOYALTY-Loyalty is a belief, trust and dedication to a person or cause. We show loyalty when we support goals, ideals and outcomes that are mutually beneficial through a shared sense of honesty, trust and forgiveness.
SERVICE– Service is an act of giving. Service is giving something of ourselves for the benefit of others. When we serve others, we show humility and empathy for the needs and desires of others living beings. Kids on Craig also acknowledges the local custodians of the Land the Toorbul people. Recognising the importance and connection they have to our land and contribution to our local community.
INITIATIVE – Initiative is showing creativity through actions that follow the trust placed in us by others. We display initiative by being ready and able to think creatively, solve problems and take risks.
MINDFULNESS – Mindfulness is the quality or state pf being conscious or aware of something. When we are mindful, we can be fully present in each moment by focusing our awareness on the present moment, while calmly acknowledging and accepting our feelings, thoughts and bodily sensations. Holistic approach
GRATITUDE – Gratitude is being thankful for who we are and what we have. We show our gratitude by thanking others through words and deeds and being kind to ourselves. The experience of gratitude has historically been a focus of several world religions.
[ess_grid settings="{'max-entries':'20','entry-skin':'1′,'layout-sizing':'boxed','grid-layout':'even','spacings':'0′,'rows-unlimited':'off','columns':'5′,'rows':'3′,'grid-animation':'fade','use-spinner':'0′}" special="related"]